No Talking in the "Whispering Jet" Library
Falko, along with their close partners, Dean Dakolias,  Co-Chief Investment Officer of the Fortress Credit Funds business (Falko's shareholder) and Houlihan Lokey, a leading global investment bank, have donated to a rather special project to convert an Avro RJ100 into a new library and reading room for St Mary's and St Helen's Primary School Partnership, in Bristol.
The City of Bristol has a significant heritage in the UK commercial aerospace industry centred on Filton.  Filton was formerly a British Aerospace plant and is currently a major Airbus plant.  The centre fuselage of the donor aircraft, MSN E3232 was built here.
The Avro library cleverly ties two themes together – the heritage of the local community as well as offering a physical representation of the vision for the school – which is 'Flying High'
The school's focus is about adventure, aiming high, exploration, innovation and having fun along the way, so they are really looking forward to bringing the converted aircraft to the school.
Jeremy Barnes says "It goes without saying that Falko are so very happy to be able to help St Mary's and St Helen's Primary School Partnership with the Project.  Putting aside the very close connection between the aircraft type and Falko, the project is exciting for us as the aircraft type is part of our heritage and more particularly it is such a wonderful and imaginative initiative"
Alongside the cash donation, the team at Falko, many of which worked on the aircraft when it was in production at Hatfield, are offering assistance with the sourcing and supply of missing components.
The plane arrived at Cotswold Airport and the first portion of work is now taking place. It will then either be stored at the Cotswold Airport or moved to one of the old Brabazon hangers in Bristol, for completion of the conversion.
The donations from Falko, Mr. Dakolias and Houlihan Lokey, along with the pupil's fundraising effort and a grant from the schools Local Authority means the school is now able to press go on the main work to the plane.
Once completed the new reading space will be situated in the grounds of the school for use by both pupils and staff.
The entire history of the aircraft is summarised in the table below;
MSN
TYPE
REG
Date To
Date From
Airline
Remarks
E3232

RJ100

G-6-232
12- 7-93
--
FF in THY c/s


TC-THA
22- 7-93
22- 7-93
THY - Turkish Airlines
"Denizli". Grounded Istanbul 5-04
RTS by 10-10-04. Renamed "Kütahya" after 5-05. WFS 29-1-06 Parked IST. All white fuselage &
plain red tail by 12-3-06
Arrived SEN 8-2-07


G-CEIH
1- 2-08
--
BAE Asset Management
(Sold to Falko 15-7-11)

(Trident Jet Leasing) Reg'd 23-2-07.
To Aerostar, Bacau for storage 1-2-08
To QAPS Lelystad 30-12-12 for paint
Returned to Bacau 17-1-13


G-CEIH
12- 4-13
Air Libya
Reg'n cancelled 17-4-13


5A-FLA
-13
Air Libya
To Craiova 30-3-15 for C-check after
storage. Redelivered 9-6-15
To Cranfield 10-8-17 for C-Check.
Work stopped and moved outside by
18-9-17. Engine issues.
Into hangar 7-12-17 for some
missing fairings to be replaced.
Returned to storage by 12-12-17
Still stored 19-7-18.
TT 28,813:25 hrs 25,790 cycles
Stored on apron parted out by 8-12-18. Inboard pylons removed by 1-2-19 Reg'n painted out by 16-6-19
Parked on Avalon apron by 18-8-19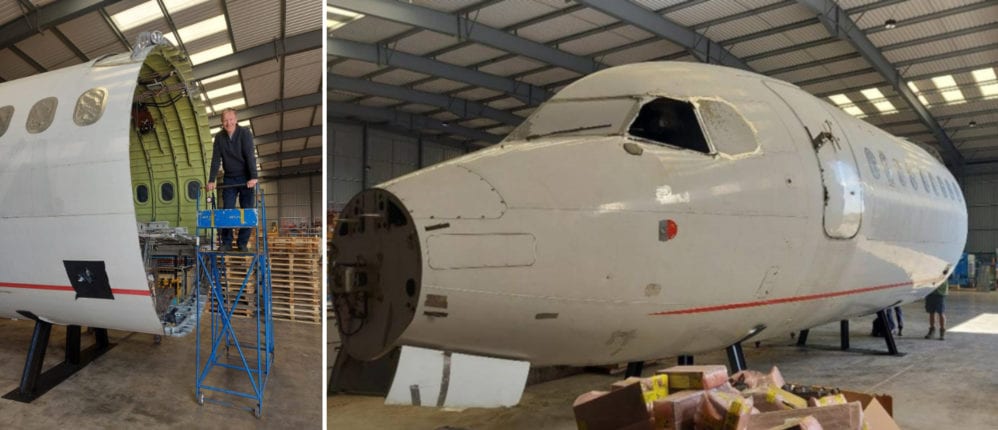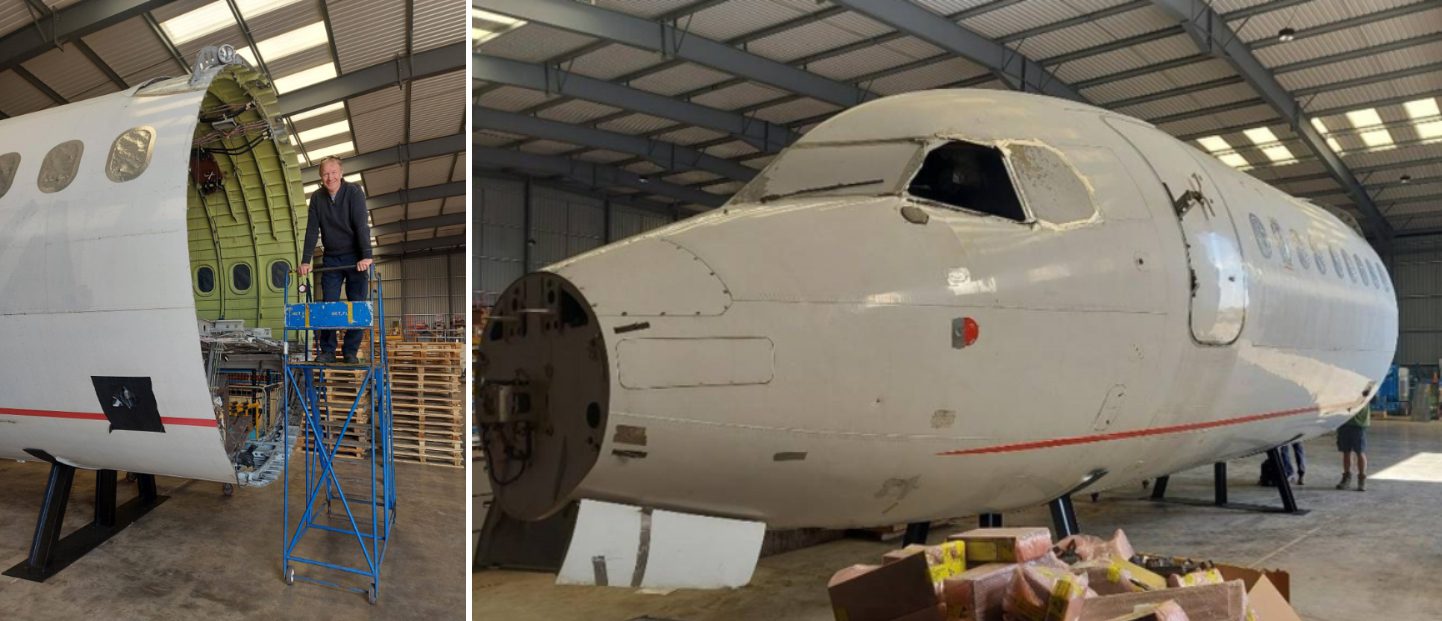 20/12/21 – Library update
Progress has been made since the announcement of the conversion of an Avro RJ with serial number E3232 which was retired from service after operating with Air Libya into a library for the St Mary's and St Helen's Primary School Partnership, in Bristol.  All risk assessments have been completed and the fuselage was successfully transferred from Kemble to Filton where the final conversion will take place in a dedicated hanger secured at the GKN site.
The new cradle with access steps has been fabricated and structural floor strength of the cabin has been calculated. Work has already started to strengthen the cabin floor and install cladding to the interior of the cabin fuselage. Apprentices from GKN at Filton will travel to Norwich and will be stripping out components from a donor  aircraft ready for the -cockpit  refit to start mid-January 2022.   We will be providing further updates and photographs as the conversion progresses to completion planned for Easter 2022